HoangsapParacelsblogspot.com:
Để thấy tinh thần tráng sĩ cuả hai hạm trưởng Murrell, Mỹ, và von Stolberg, Đức. Tình huynh đệ chi binh cao cả cuả người chỉ huy với thuỷ thủ đưới quyền Để thấy hoả lực hùng hậu cuả dàn thuỷ lựu đạn trên Khu Trục Hạm Tiền Thám
USS
Haynes
(DE-181)
, cùng loại với Khu Trục Hạm Trần Khánh Dư, HQ 4, tham dự trận hải chiến Hoàng Sa, và Soái Hạm Trần Hưng Đạo, HQ 1. Trận đấu trí giưã hai hạm trưởng Mỹ, Robert Mitchum và Đức, Kurt Jurgen thật hào hứng khiến chúng ta phải nghiêng mình bái phục.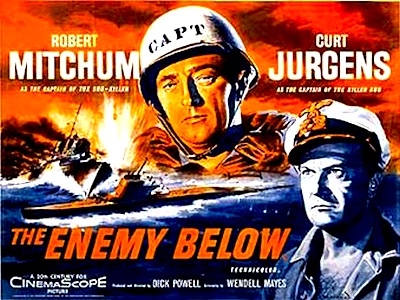 The movie revolves around a battle between an American Buckley-class destroyer escort, the USS Haynes (DE-181), and a German U-boat that is attempting to rendezvous with a German merchant raider in the South Atlantic Ocean. Captain Murrell (Robert Mitchum), a former officer in the merchant marine and now an active duty Lieutenant Commander in the Naval Reserve, has recently taken command of the Haynes, even though he is still weak from having survived the sinking of his previous ship. Before the U-boat is first detected, a loud mouthed sailor, dumping garbage, questions the new captain's fitness and ability, calling him a 'feather merchant[1]. However, as the battle begins, Murrell shows himself to be a match for wily U-boat Kapitän von Stolberg (Curt Jürgens) in a prolonged, deadly battle of wits that tests both men and their crews. Each man grows to respect his opponent.
In the end, von Stolberg succeeds in torpedoing the destroyer. However, Murrell has one last trick up his sleeve. Ordering his men to abandon ship, he tells them to first set fires on the deck to make the ship look more damaged than it actually is. This, he hopes will cause the U-boat's captain to surface and sink the destroyer with the U-boat's deck gun instead of using another valuable torpedo. His ploy works, and when von Stolberg surfaces to finish off the
Haynes
, Murrell orders his gunners to disable the submarine and destroy its deck gun. Ordering the skeleton crew manning the engine room to set the engines at full speed and abandon ship, he then turns the sinking
Haynes
towards the U-boat. Von Stolberg orders his crew to set the sub's detonators and abandon ship. The
Haynes
rams
the U-boat almost cutting it in two, ensuring that the submarine would not escape.
Murrell, the last man aboard his ship, is about to abandon ship when he notices the German captain (von Stolberg) on the conning tower of the U-boat with the submarine's wounded executive officer (Korvettenkapitän Heini Schwaffer). Respectfully, Von Stolberg salutes Murrell, who returns the salute. Murrell then tosses a rope to the submarine and pulls each man on board, he then says they should abandon ship, leaving the dying "Heini" Schwaffer (
Theodore Bikel
), but von Stolberg refuses to leave his dying friend. At that point members of both crews scramble on board, helping the three men into a lifeboat. They manage to clear the tangled wrecks just before the sub explodes. The film ends as the German survivors, now on another American destroyer, consign Schwaffer's body to the deep, as the American crew
watches
respectfully.
http://en.wikipedia.org/wiki/The_Enemy_Below